RVS-14 £99.99
Rear View Mirror with inbuilt 3.5" Colour Monitor, Camera and Four Sensors with Audible Buzzer Alarm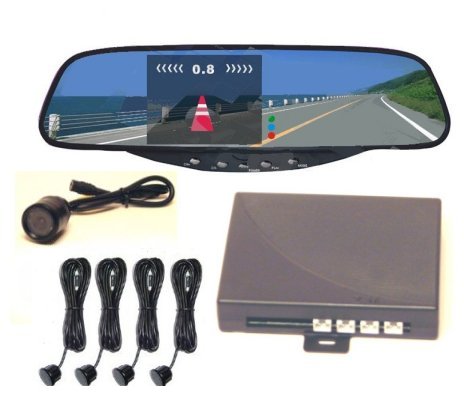 The system comes with a rear view mirror with an inbuilt 3.5" TFT colour monitor that clips over your existing mirror. There is a wide angle camera that fits into the rear bumper, 4 waterproof sensors that can be sprayed to the exact colour match of your vehicle, a main control box and a "Bi---Bi" buzzer alarm. It also includes a hole saw for easy fitting of the sensors. Everything is boxed and comes with user's manual and installation guide.
The mirror has built-in dual stereo speakers, and a universal audio input to connect to iPods, MP3 or MP4 devices. There is also a built-in FM frequency transmitter to connect to your car stereo with 7 preset channels. A video-in connector enables connection to any video source.
Power voltage: 9 - 15 V dc

Operating temperature: -35 - +75 degrees

Detecting distance: 0.3cm - 200cm
The camera and monitor comes on when you engage reverse gear enabling you to see directly behind the vehicle, and the buzzer will sound as you reverse closer to any object, and the distance information will be displayed on the monitor:

200 - 150 cm.......Safe mode....................No noise
150 - 100 cm......Alarm mode......Bi-------Bi-------Bi
100 - 50 cm........Alarm mode......Bi----Bi----Bi----Bi
50 - 30 cm..........Alarm mode.........Bi--Bi--Bi--Bi--Bi
30 - 0 cm............STOP MODE...............Biiiiiiiiiiiiiiiiiiiiiii
These sensors are for use on plastic bumpers and are very easy to fit.
RVS-14 £99.99